2014-04-17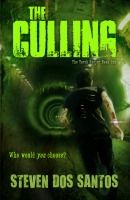 It seems like only yesterday that I was preparing to launch book 1 of The Torch Keeper series,
THE CULLING
, which chronicles the tale of our hero, 16 year old Lucian "Lucky" Spark. Lucky lives with his 4 year old brother in a post-apocalyptic world where the tyrannical regime known as the Establishment, drafts recruits, and forces them to undergo trials, where the price of failure means they are compelled to choose between the lives of their loved ones, who will suffer brutal/gruesome deaths.
Yeah, I know it sounds twisted. But I was originally going to have the recruits have to choose and even worse, more unimaginable fate:
whether or not to room with either Myley Cyrus or Justin Bieber for a year
, but that was just too horrific to put on the page.
So what's been happening in the past year since
THE CULLING
's release? Most recently, this past January I received an honor that made the manic, rollercoaster ride toward the goal of publication worth every single second.
THE CULLING was named a Top Ten Selection of The American Library Association's Rainbow List
, which presents an annual bibliography of quality books with significant and authentic GLBTQ content that are recommended for people from birth through eighteen years of age.
I can't express how rewarding this is for me, especially after all the challenges I had trying to get a genre book with gay protagonists published by a mainstream press. (You can read all the gory details of that journey
here
)
In addition to the Rainbow List honor, it's been great to
receive tweets and social media messages from readers all over the globe
telling me how much they enjoyed the book and how they can't wait for the next one. That's been a real eye-opening experience for me because you spend so much time by yourself when writing a book (unless you count the other voices in your head which can get quite demanding at times – SHUT UP!) that it's surreal that other people are actually reading your words and, in some cases, commenting on being moved emotionally to the point of tears. I actually made someone cry, without ever having to open my mouth for a change!
An extension of this feeling was when I discovered that a
website called Chaos Reads had actually started a fan forum for the Torch Keeper series
where they discuss my characters, plots, hopes for future installments, and the various "ships" (I think we have Spycho and Cassian). It's been the first time where I discovered that people were talking behind my back that I was actually pleased.
Interacting with the readers has proven to be one of the most rewarding aspects of writing, especially with LGBTQ teens that tell me how much they appreciate seeing themselves represented in Young Adult genre fiction. This message I received from a high school student was particularly touching:
Thanks for writing a great book and I hope it receives all of the attention it deserves. I know some people won't pick up the book because it has gay characters. I try to plead with them because it is a great book. Love is love to me and everyone should be accepted for what they are and that's the great thing about your book. Right now I'm struggling with my own sexuality, not really struggling because I know I am gay but my mother doesn't accept them. You have inspired me though to try to come out. You have relieved some of the pressure. Thank you.
And on those days when I am feeling particularly frustrated or down, that message is a magical reminder of why I do what I do.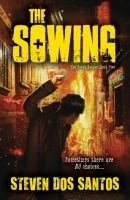 So let's talk about
THE SOWING
! I had never written a sequel before in my life and when I set about drafting THE SOWING I was faced with a unique set of challenges. After all, the story of
THE CULLING was very intense, full of action, betrayal, tension and even a little romance.
How was I ever going to equal or top that?
Now we all know sequels are a mixed bag. Not every sequel is a Godfather Part II or an Empire Strikes Back. All too often you get an Exorcist II: The Heretic, Breakin' 2: Electric Boogaloo, Leprechaun: Back 2 Tha Hood.
Yep.
Number twos are quite often literally Number Twos.
When I started writing THE SOWING, I tried my best to make sure it didn't fall into the latter category.
Without giving away too many spoilers, THE SOWING picks up a year later, where our hero, Lucian Spark has now been recruited into the ranks of the evil Establishment and has become a vigilante, working to destroy the corrupt government from within through acts of sabotage. Even though his identity is unknown, his acts have been labeled as the works of a terrorist.
The losses Lucian suffered in THE CULLING have made him rough around the edges, a tad cynical, and determined to wreak vengeance on those who've wronged him.
When Lucian becomes involved in a plot to assassinate members of The Establishment's hierarchy, he's thrust into the war between the resistance and the government, where the lines between friends and enemies are blurred.
His only chance for survival lies in facing the secrets of The Sowing
, a mystery rooted in the ashes of the apocalyptic past that threatens to destroy Lucian's last hope for the future.
This time, there are no choices.
In addition to the return of Lucian Spark and his twisted antagonist, the deliciously evil Cassius Thorn,
THE SOWING
 introduces new characters because, let's face it,
there weren't too many characters that survived THE CULLING!
Because of this, I was also able to expand the LGBTQ spectrum of characters by including
a new bisexual male character, and a couple of lesbian characters.
I hope readers enjoy them as much as I enjoy writing them.
In addition to new characters,
THE SOWING
gives readers a deeper glimpse into the society established in THE CULLING, and explores how this post-apocalyptic world came to be, while at the same time ramping up the stakes in the war for control of the remnants of humanity.
And oh yes.
The Fleshers are back!
Total Pageviews since Febr 06, 2012

Highlights
On the Blog