2014-09-27
Looking for some more LGBT+ reads? Consult the rainbow: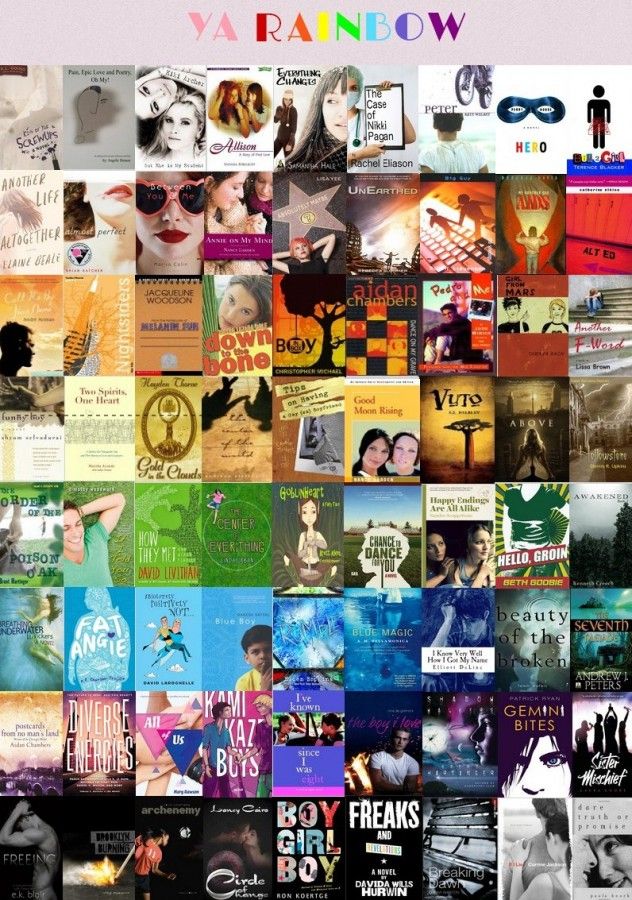 White(ish) -
King of the Screwups
by K.L. Going (gay uncle, MC with a goal to be "unpopular"),
Pain, Epic Love and Poetry, Oh My!
by Angelic-Demon ("poetry journals of a gay, male adolescent"),
But She Is My Student
by Kiki Archer ("lesbian chick lit"/New Adult, student-teacher relationship),
Allison
by Tatiana Strelkoff (lesbian, "prejudice, family disapproval and bullying"),
Everything Changes
by Samantha Hale (first love, lesbian, coming to terms),
The Case of Nikki Pagan
by Rachel Eliason ("hospital friends"),
Peter
by Kate Walker ("honest novel about sexuality and the need to be true to oneself", GLBT),
Hero
by Perry Moore (superheroes, misfits, GLBT),
Boy2Girl
by Terence Blacker (cross-dressing guy, trans?)
P

ink to Red

-
Another Life Altogether
by Elaine Beale (lesbian, (mother's) mental illness), 70's England, bullying),
Almost Perfect
by Brian Katcher (trans),
Between You & Me
by Marisa Calin (lesbian, contemporary with a "gender enigma"),
Annie on my Mind
by Nancy Garden (a lesbian classic, realistic, coming of age),
Absolutely Maybe
by Lisa Yee (road trip to LA, some LGBT "content"),
UnEarthed
(
UnEarthed
#1) by Rebecca Bloomer (science fiction, lesbian),
Big Guy
by Robin Stevenson (GLBT, lying about age & weight),
My Brother Has AIDS
by Deborah Davis (what the title says...),
Alt Ed
by Catherine Atkins (bullying, "group therapy")
Orange -
Call Me By Your Name by André Aciman (GLBT, "
restless summer on the Italian Riviera"
),
Nightsiders
(
Twelve Planets
) by Sue Isle (Australia, dystopia, "a boy born into the wrong body"),
From the Notebooks of Melanin Sun
by Jacqueline Woodson (LGBT parent),
Down to the Bone
by Mayra Lazara Dole (Catholic school dropout kicked out from home for being lesbian...),
Boy in Box
by Christopher R. Michael (middle grade "about growing up and finding identity" with some... "LGBTQ content"),
Dance on My Grave
(
The Dance Sequence
) by Aidan Chambers (friendship, obsession, drama, GLBT),
Pedro and Me: Friendship, Loss, and What I Learned
by Judd Winick (graphic novel, HIV, memoir),
Girl from Mars
by Tamara Bach (first love, lesbian, weekend trip),
Another F-Word
by Lissa Brown ("bullying, courage and love", "parental struggles to support a gay child, the role that schools and religious institutions play, the tragedy of teen suicide...")
Yellow

-
Funny Boy
by Shyam Selvadurai (growing up gay in Sri Lanka),
Two Spirits, One Heart: A Mother, Her Transgender Son, and Their Journey to Love and Acceptance
by Marsha Aizumi & Aiden Aizumi,
Gold in the Clouds
by Hayden Thorne (retelling, GLBT),
The Center of the World
by Andreas Steinhöfel (Germany, twins, GLBT, first boyfriend),
Tips on Having a Gay (Ex) Boyfriend
(
Belle
#1) by Carrie Jones (realistic, poetic, contemporary),
Good Moon Rising
by Nancy Garden (lesbian, school play, homophobia),
Vuto
by A.J. Walkley (LGBT parents -two dads-, Africa),
Above
by Leah Bobet (intersex, lesbian, urban fantasy, dystopia),
Hollowstone
by Dennis R. Upkins (boarding school, supernatural, horror, GLBT)
Green -
Order of the Poison Oak
(
Russel Middlebrook
#2) by Brent Hartinger (summer camp, GLBT),
If I Told You So
by Timothy Woodward (summer, ice cream, funny coming-of-age story, GLBT),
How They Met and Other Stories
by David Levithan (short story collection),
The Center of Everything
by Linda Urban (supporting character has two dads),
Goblinheart
by Brett Axel (picture book, childrens book, trans, "fairy tale"),
Chance to Dance for You
by Gail Sidonie Sobat (dancer & quarterback, GLBT, Canada, suburb bigotry),
Happy Endings Are All Alike
by Sandra Scoppettone ("1978 lesbian young adult romance"),
Hello, Groin
by Beth Goobie (lesbian, coming out),
Awakened
by Kenneth Creech (GLBT, paranormal, "shifters", romance)
Blue

-
Breathing Underwater
by Lu Vickers ("growing up gay in the American South" in the 70s, lesbian),
Fat Angie
by E.E. Charlton-Trujillo ("darkly comic anti-romantic romance", lesbian),
Absolutely Positively Not
by David LaRochelle (humorous, contemporary, GLBT),
Blue Boy
by Rakesh Satyal (humorous, coming of age, GLBT, PoC),
Rumble
by Ellen Hopkins (verse novel, suicide, bullying, dark, religion),
Blue Magic
(
Astrid Lethewood
#2) by A.M. Dellamonica (urban fantasy, transgender parent),
I Know Very Well How I Got My Name
by Elliott DeLine (trans, 90s/early 2000s, bullying),
Beauty of the Broken
by Tawni Waters (abuse, lesbian, New Mexico),
The Seventh Pleiade
by Andrew J. Peters (fantasy, Atlantis, GLBT)
Purple -
Postcards from No Man's Land
(
The Dance Sequence
) by Aidan Chambers ("historical fiction", two time periods: World War II & present, coming of age romance, GLBT, travel, Amsterdam),
Diverse Energies
(anthology, science fiction, fantasy, one of the authors is Malinda Lo),
All of Us
by Mary Rawson (New Zealand, Australia, bisexuality, tragedy, friendship, love, grief),
Kamikaze Boys
by Jay Bell (coming of age, GLBT, "an odd pair, the loser and the psychopath, and bad things happen to people who mess with them"),
I've Known Since I Was Eight
by Sophie Glasser ("a down-to-earth teenage girl's first lesbian relationship and the reactions of her family, friends, and community", a more adorable cover
HERE
),
The Boy I Love
by Nina de Gramont (secrets, friendships, GLBT romance),
Shadow Walkers
by Brent Hartinger (astral travelling, GLBT),
Gemini Bites
by P.E. Ryan ("a pair of twins (one boy, one girl) both fall for the boy who moves in with them…who may or may not be a vampire"),
Sister Mischief
by Laura Goode ("gay suburban hip-hopper freaks out her Christian high school - and falls in love", humor, lesbian)
Black to Gray

-
Freeing
(
Fading
#2) by E.K. Blair (romance, new adult,
dark
),
Brooklyn Burning
by Steve Brezenoff (music, glbt, trans, New York),
Archenemy
(
Counterattack #6
) by Paul Hoblin (soccer, lesbian friends/enemies, PoC),
Circle of Change
by Laney Cairo (gay, trans, romance...),
Boy Girl Boy
by Ron Koertge ("about three best friends who each learn how tough it is to be yourself", GLBT),
Freaks and Revelations
by Davida Wills Hurwin (hate crime, survival and forgiveness, GLBT),
Breaking Dawn
(Cutting Edge) by Donna Shelton (secrets, betrayal, GLBT),
If I Lie
by Corrine Jackson ("about the gray space between truth and perception"),
Dare Truth or Promise
by Paula Boock (lesbian, religion, faith, bigotry, romance, Australia)
Have you read any of these books? There are quite a few I'm interested in: namely Boy2Girl, Absolutely Maybe, Big Guy, Nightsiders, Above,
Chance to Dance for You
,
Absolutely Positively Not
,
The Boy I Love
and
Freeing.
What about you? Which ones went to your tbr?
Total Pageviews since Febr 06, 2012

Highlights
On the Blog