2014-07-24
...out of books I haven't (have yet to) read: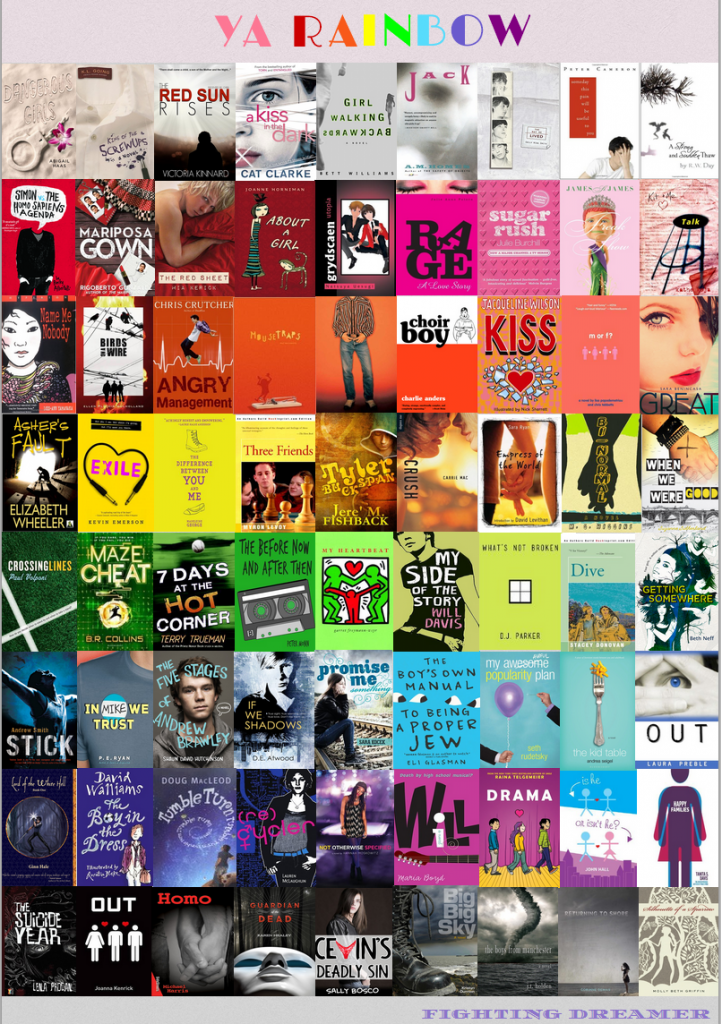 White(ish) -
Dangerous Girls
by Abigail Haas (bisexual/lesbian undertones(?), mystery),
King of the Screwups
by K.L. Going (GLBT, contemporary, humorous coming of age),
The Red Sun Rises
by Victoria Kinnaird (GLBT, vampires),
A Kiss in the Dark
by Cat Clarke (emotional, twisty, secrets & lies),
Girl Walking Backwards
by Bett Williams (self harm, drugs, mental health, anti-coming-of-age, volleyball, California, queer),
Jack
by A.M. Homes (gay parent, YA),
The Way He Lived
by Emily Wing Smith (religion, death, grief, GLBT),
Someday This Pain Will Be Useful to You
by Peter Cameron (realistic, GLBT),
A Strong and Sudden Thaw
by R.W. Day (GLBT, post-apocalyptic, fantasy, dragons)
Red to

pink

-
Simon vs. the Homo Sapiens Agenda
by Becky Albertalli (secrets, "blackmail", romance, friendship, coming out, 2015),
Mariposa Gown
by Rigoberto González (sequel to
The Mariposa Club
, drag, prom, friendship),
The Red Sheet
by Mia Kerick ("hero-complex"?, GLBT, jockxnerd),
About a Girl
by Joanne Horniman (secrets, poetic, lesbian),
Grydscaen: Utopia
by Natsuya Uesugi (GLBT, art college life, NA?, paranormal),
Rage: A Love Story
by Julie Anne Peters ("dark side of first love", lesbian, abuse),
Sugar Rush
by Julie Burchill (private school, lesbian, in love with the BFF),
Freak Show
by James St. James (unexpected love, hilarious, heartwarming, GLBT),
Talk
by Kathe Koja (self-acceptance, school play),
Orange -
Name Me Nobody
by Lois-Ann Yamanaka (friendship, family, sexuality, and identity, middle grade, set in Hawaii),
Birds on a Wire
by Ellen Mulholland (three friends, a secret > test of friendship, GLBT, set in the 90s),
Angry Management
by Chris Crutcher (misfits; about insecurity, anger, prejudice, love, freedom, power and hope),
Mousetraps
by Pat Schmatz (friendship/bullying, homophobia, illustrated),
The Arizona Kid
by Ron Koertge (summer, small town, horses, GLBT),
Choir Boy
by Charlie Jane Anders (trans, bittersweet, humor, middle grade),
Kiss
by Jacqueline Wilson (best friends, growing up/"changing", first love/heartbreak),
M or F?
by Lisa Papademetriou (gay or straight - that's the question),
Great
by Sara Benincasa (retelling of
The Great Gatsby
)
Yellow

-
Asher's Fault
by Elizabeth Wheeler (GLBT, photography, family; divorce, death),
Exile by Kevin Emerson (LGBT family member),
The Difference Between You and Me
by Madeleine George (
more lime than yellow but oh well
, lesbian, secret relationship, opposites attract),
Three Friends
by Myron Levoy (bisexual characters(s?), love triangle, oldie but goodie - 1984),
Tyler Buckspan
by Jere' M. Fishback (set in the 60s, forbidden love, sports, mediums/con artists),
Crush
by Carrie Mac (summer, New York, love & and acceptance),
Empress of the World
(Battle Hall Davies #1) by Sara Ryan (summer program for gifted kids, bisexual?),
Bi-Normal
by M.G. Higgins (bisexual male MC, opposites attract),
When We Were Good
by Suzanne Sutherland (Toronto, underground music, misfits, lesbian)
Green -
George Crossing Lines
by Paul Volponi Maze Cheat by B.R. Collins (bisexual(?), trans(?) bullying),
Maze Cheat
by B.R. Collings (coding, gaming, bisexual(?), PoC),
7 Days at the Hot Corner
by Terry Trueman (HIV/AIDS, homophobia, baseball),
The Before Now and After Then
by Peter Monn (twins, music(?), friends, a life-changing event),
My Heartbeat
by Garret Freymann-Weyr (messy love "triangle", bisexual(?)),
My Side Of The Story
by Will Davis (humorous story about "growing up and coming out", GLBT),
What's Not Broken
by D.J. Parker (coming out/to terms, "story of life and love and loss." GLBT),
Dive
by Stacey Donovan ("psychological novel full of clarity and a strange beauty", lesbian),
Getting Somewhere
by Beth Neff (abuse, delinquents, LGBT adults, juvenile detention program on a farm)
Blue

-
Stick
by Andrew Smith (bullying, abuse, GLBT, brothers, best friends, road trip),
In Mike We Trust
by P.E. Ryan (secrets, family, GLBT),
The Five Stages of Andrew Brawley
by Shaun Hutchinson (survivor guilt, bullying, death(?), partly graphic novel, set in a hospital, GLBT, 2015),
If We Shadows
by D.E. Atwood (trans, female to male, musical, fantasy),
Promise Me Something
by Sara Kocek (accident in family, to be friends with the popular kids or to choose the outcast?),
The Boy's Own Manual to Being a Proper Jew
by Eli Glasman ("Set in the orthodox Jewish community in Melbourne", "painful and funny story about secrets", religion),
My Awesome/Awful Popularity Plan
by Seth Rudetsky (friends, lies/scheming, humorous),
The Kid Table
by Andrea Seigel (family, gay cousin),
Out
by Laura Preble (a society where opposite-sex couples are forbidden, religion)
Purple -
Lord of the White Hell
by Ginn Hale (fantasy, GLBT),
The Boy in the Dress
by David Walliams, Quentin Blake (illustrator) (middle grade, humorous, cross-dressing, trans themes),
Tumble Turn
by Doug MacLeod (told via e-mails, middle grade),
(Re)cycler
(
Cycler
#2) by Lauren McLaughlin (urban fantasy, MC - girl- turns into a boy once a month and they have different personalities),
Not Otherwise Specified
by Hannah Moskowitz (bisexual?, poc?, labels, stereotypes, identity),
Will
by Maria Boyd (school musical, friends?, humorous),
Drama
by Raina Telgemeier (graphic novel, middle grade, theater),
Is He Or Isn't He?
by John Hall (New York, prep school, light contemporary, probably similar to
M or F?
),
Happy Families
by Tanita S. Davis (twins, transgender parent)
Black to Gray

-
The Suicide Year
by Lena Prodan (depression, suicide attempts, military kid),
Out
by Joanna Kenrick (short story),
Homo
by Michael Harris (GLBT, coming out/coming to terms),
Guardian of the Dead
by Karen Healey (Maori myths, urban fantasy, asexual),
Cevin's Deadly Sin
by Sally Bosco (cross-dressing, identity, bullying, gay deprogramming camp, religion),
Big Big Sky
by Kristyn Dunnion (sci-fi, lesbian),
The Boys From Manchester
by J.T. Holden (friendship, sacrifice, supernatural, superheroes, young love),
Returning to Shore
by Corinne Demas (summer, island on Cape Cod, angst, family),
Silhouette of a Sparrow
by Molly Beth Griffin (summer of 1926, a "young woman's discovery of the science of risk and the art of rebellion, and the power of unexpected love")
Have you read any of these books?
Are there any that you would recommend?
Any that sound up your alley?
Total Pageviews since Febr 06, 2012

Highlights
On the Blog